SurgicEye: making the invisible visible
Series B in 2012
SurgicEye delivers tumor imaging and navigation solutions. By overlaying SPECT images onto a real-time ultrasound image, surgeons pre-operatively map the excision area and approach the tumor or sentinel lymph node with ultimate precision.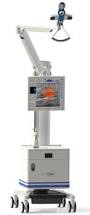 SentiGuide enables needle biopsy under ultrasound guidance. SPECT-US allows the precise localization of parathyroid adenomas and cold nodules. Declipse-SPECT provides 3D imaging during minimally invasive, radio guided surgery. SurgicEye systems are used in leading university hospitals worldwide and the company participates in major research projects.
Spun out of the Technical University Munich (TUM) from the chair of Computer Aided Medical Procedures, Dr. Jörg Traub and Dr. Thomas Wendler founded SurgicEye in 2008 to provide important enhancements to tumor surgery.
We joined the investment consortium in 2012 to support the international distribution and further development of the company. 'The advice that Adriaan gave us on our clinical development program was very important. It is always a great benefit to have people on the board with specific knowledge', according to Dr. Jörg Traub.
SurgicEye Gmbh, Friedenstraße 18A, 81671 München, Germany
Established 2008
CEO: Dr. Jörg Traub